Focus on Your Practice Better by Outsourcing Dental Bookkeeping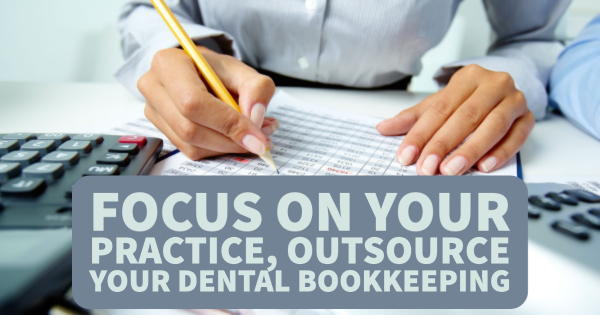 Per an ADA Survey of Dental Practice in 2010, you can increase production up to 26.1% by using 2 dental assistants and by 70.1% using 3 chairside assistants. When you are a full-time dentist, you need all of the help you can get. It is vital that you are able to care for all of your patients as well as the operation of your business, such as the bookkeeping.
Get Guidance for Your Dental Bookkeeping
Would you expect a bookkeeper to be able to fill a cavity? The same goes for dentists. Your specialty isn't in keeping the books. That's why it is important that you outsource dental bookkeeping.
Better Understand Your Practices' Financial Health
It takes qualified guidance from consultants for dentists that have years of experience with dental bookkeeping. They can ensure you understand the financial health of your practice better. You can expect them to understand your dental business better than a traditional bookkeeper. Their dental-specific experience is precisely what they build their accounting business services for dentists upon.
Have You Put Your Books Off?
Have you put your books off too long? Don't worry, dental bookkeeping specialists understand that you are busy running your practice. In fact, they want to ensure you can relax knowing your books are being managed professionally so you can focus on doing what you do best. You can rely on dental practice advisors to clean and simplify your books as well as financial information.
There Are Many Reasons You Need Bookkeeping Services, Including:
To Know Whether You Are at a Profit or a Loss
To Understand the Financial Health of Your Business
To Know What Your Practice Owns and What It Owes
To File Taxes as You Go
The Benefits of Outsourcing for Bookkeeping Are Plenty
The one thing you can't get back is time. Outsourcing for dental bookkeeping can save you valuable time. You don't have to spend time trying to figure out the books. Instead, you could be investing your time in your practice so it becomes even more profitable.
The Experts Are Great at Their Job
Skilled dental practice management consultants will provide you with top-notch dental bookkeeping services. They are already great at bookkeeping. They solely focus on working on your books without serious distractions. This alone reduces the risks of errors.
The reports for your accounts will be more accurate too. You can't get any better insight into your dental practices' cash flow. Hiring dental bookkeeping experts will give you the opportunity to truly understand your business so you can run it effectively.
Dental Bookkeeping Services Use Specialized Programs
It takes specialized programs to correctly keep a business' books. You don't want your books being kept using outdated methods. Specialized programs keep your information safe and enable you to back it up and access it for years to come.
Choose Professional Bookkeepers for Your Dental Practice
Even if you already have a bookkeeper, do they truly understand your practices' financial progress? Consultants for dentists have years of experience assisting dental practices and helping them earn better profits. They have experienced staff ready to provide you with bookkeeping services for years to come.
Every part of the bookkeeping process will be carefully explained while viewing financial statements so you stay more informed concerning financial decisions. If you have questions about financial statements, they will always be able to answer them. The statements you are provided with can be given directly to your CPA for tax season too.
Book a Consultation Today
Run your practice much easier by booking a consultation to discuss your dental bookkeeping needs. You will gain a team of expert dental bookkeepers ready to guide you through their process. They understand the importance of easy and simple communication so you can effectively run your dental practice.